eConsult
For non-urgent queries you can now do an eConsult. With many of our consultations being done by telephone it may be harder for you to reach us by telephone at the moment, so this is a helpful alternative which is becoming increasingly popular with our patients. It gives the doctor all the information they need to be able to help you, for example with advice or a prescription, and it saves you travelling to the surgery, finding a lift or childcare, taking time off work etc, so do give it a try – see below. eConsults are suitable for NON URGENT QUERIES and will get a response within two working days. For more urgent problems please telephone us as normal.
Please click on the image opposite to start your eConsult
Click here for more details about eConsult and how it works.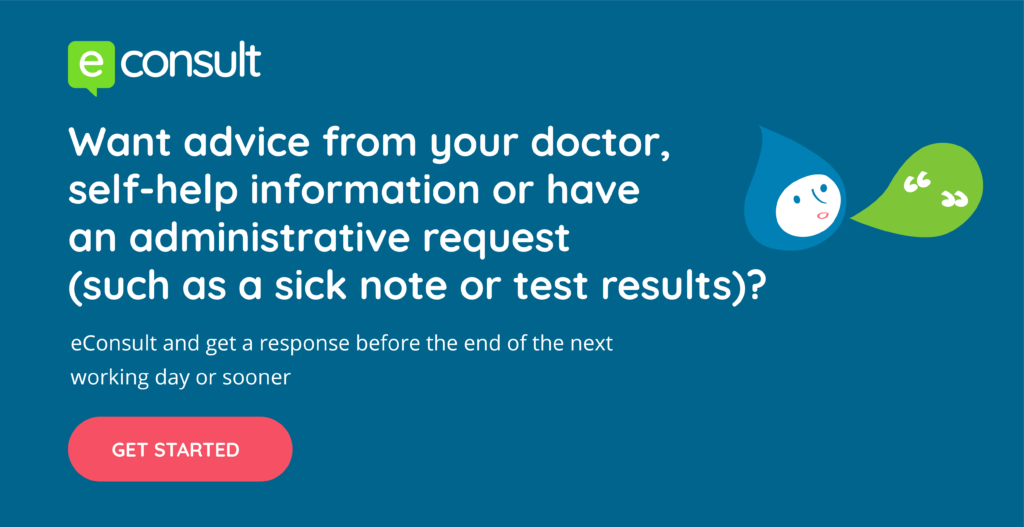 Telephone Consultations
Many of our consultations done by telephone. If you have a smartphone the GP can also do a video consultation and may offer this if they need to "examine" you. If you have an urgent problem ring us early in the morning so our duty doctor can triage the urgency of your problem.
For less urgent problems please consider doing an eConsult which gives targeted and precise information to the duty doctor who will respond within 2 working days.
If you need to be seen face-to-face we have continued to bring patients into the surgery and the doctor will arrange an appointment time with you, either on the same day (for urgent problems) or a booked appointment at a later date.
Home Visits
Patients are requested, where possible, to telephone before 10:30 if a home visit is required that day.
We would request that, apart from the genuinely housebound, all other patients attend the surgery rather than request a home visit because of the extra time home visiting takes. On average four to five patients can be seen in surgery in the time it takes to do a single house call.
Please note that the doctor may telephone you rather than visit you if this is medically appropriate. Ultimately it is the doctors right to decide whether or not a visit is appropriate for a particular set of circumstances.
Late Night and Weekend Appointments
We offer late night appointments here on Mondays, Tuesdays, Wednesdays and Thursday evenings (18.30 to 19:00).
We are working to improve access to appointments for our patients, in particular at evenings and weekends. We are able to book you into appointments in Bridport Community Hospital, Dorset County Hospital and Weymouth Community Hospital (all in the Minor Injuries/Urgent Care centres) from 18:00 – 20:00 every weekday and at weekends.
These clinics are run by either a GP or a nurse practitioner who can assess and treat new minor illness, including issuing prescriptions, and advise on ongoing treatment, and (with your permission) can access your full GP medical record. There are also nurse clinics where the staff can take bloods and do dressings.
Our reception team will advise you and book an appropriate appointment for you if this is helpful. Call us, or when we are closed you can call 01305 762541 to book an appointment.
Cancel an Appointment
It is important that you inform the reception staff if you are unable to attend your appointment, this will allow that appointment to be offered to another patient. If you fail to notify the Practice that you are unable to attend, you will be sent a letter informing you that you have defaulted from your appointment. Persistent defaulters maybe removed from the list.
If you have received a text confirmation of a booked appointment, you can respond to this text to cancel it if you no longer need to be seen. You will need to speak to a receptionist to rebook it.
Text Reminder Service
We have a texting service which allows you to receive confirmation and reminders about your appointments.
To have this service you will need to register by completing a consent form.
Please remember to update your contact details with us when you change address, telephone numbers and email address.
Chaperone
If you would like to have a chaperone present for any consultation, examination or procedure you can bring a family member or friend, or request a formal chaperone (such as a trained member of staff) at the time of making your appointment.
Interpreter
If English is not your first language, we have staff who can help with the French, German and Spanish, and also basic BSL (British Sign Language). We can access qualified interpreters by telephone and the web.